BP is now selling kits for kids who are interested in discovering how to build electronic devices. Click the links below for more information about each of our kits, including videos on how to get the most out of your kit.
These kits are currently only available at The STEM Cell in Tulsa. Sign up for our mailing list to receive more information on new kits as they come out, as well as new distributors and online availability.
The Electronic Foundations Starter Kit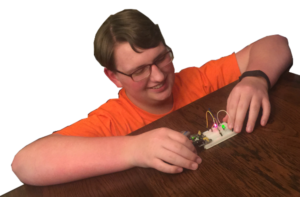 What makes your electronic devices work? How are they put together? This kit is the foundation kit for our series. It has simple instructions on how to work with breadboards and how to wire circuits. Other kits (coming soon!) use this kit as the foundation stone.
More Information: Basics Video | Advanced Video